Ride your kart faster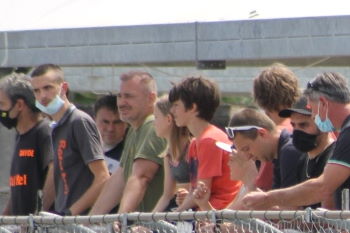 Get to the top of hills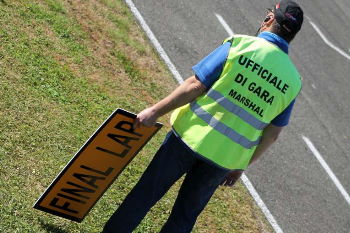 leading to success!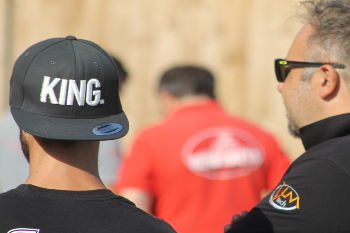 Latest News
22/10/17 Bulletins 2018
10/02/17 Bulletins 2017
18/01/17 Reglement Easy Bambini


highest international karting at club level - höchster internationaler kartsport auf clubebene
INFO REIFEN OBLIGATORISCH !!
Bambini DAI, Supet TAG, KZ2, KZ5, KZ7
Bulletins ' 2018
01
22

.11.17 Championship '2018

download
02
20.03.18 Easy/WTP Ala
download
03

download

04

download

05

download

06

download

07

download

08

download

09

download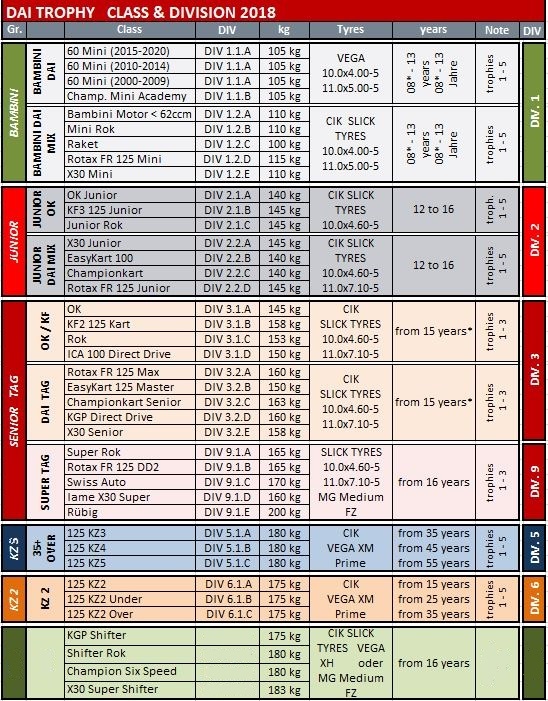 Voraussetzung für die Teilnahme an der DAI-trophy ist eine Club Mitgliedschaft und die DAI Card (Versicherung). Diese kann am Renntag bei uns käuflich erworben werden.
Diese ist Alters und Staatsbürgerschaften unabhängig und somit können auch Ausländische Bewerber ohne Einschränkungen an der DAI-Trophy teilnehmen.

dai - trophy professional and perfect
The championship DAI-Trophy will be hold over 3 countries. This year that is going to be Germany, Austria and Italy. Our aim is to have a professional appearance and to do economical and secure races. The draft is cut out for ambitious amateur driver, which is with a guaranteed future and for their need.
- professional appearance
- economical and secure races
- promotion and commitment to youth in motor sport
- a high level but for adequate prices ? conformist and neutral rules
REGLEMENT 2018
Das vorliegende Reglement gilt für alle Veranstaltungen ab dem ersten Rennen 2018 im Inland und im Ausland, die von RKVT durchgeführt werden.
Verbindliche TK-Blätter für Divisionen 2018
DIVISION 1

TK- Blatt BAMBINI

Bambini DAI 1.1.x
- 60 Mini 2015-2020
- 60 Mini 2010-2014
- 60 Mini 2000-2009
-

Champion Mini Academy

download

Bambini Mix 1.2.x
- Easy oder Motor bis 62ccm
- Mini Rok
- Raket (KTWB)
- Rotax Mini
- X30 Mini / Watherswift
download
DIVISION 1

TK- Blatt BAMBINI

-

Bambini

EASYKART

download
DIVISION 2

TK- Blatt JUNIOR
Junior OK 2.1.x
- OK
- KF3 125 Junior
- Rok Junior
download
Junior Mix 2.2.x
- Iame X30
- Easy 100 Junior
- Champion Kart
- Rotax FR 125 Junior
download
DIVISION 2

TK- Blatt Easy JUNIOR
DIVISION 3

TK- Blatt SENIOR
Senior OK/KF 3.1.x
- OK
- KF2 125
- Rok Senior
- ICA 100
download

DAI TAG 3.2

.x
- Rotax FR 125 Sen,
- Easy 125
- Championkart
- KGP direct Drive
- Iame X30 Senior
download
DIVISION 9

TK- Blatt Super TAG

DAI Super TAG

9.1.x


-

Super Rok


- Rotax DD2
- Swiss Auto
- Iame X30 Super
- Rübig
download
DIVISION 5

TK- Blatt KZ2 35+

KZ2 35+

5.1.x


-

KZ3 from 35 years
- KZ3 from 45 years
- KZ3 from 55 years
download
DIVISION 6

TK- Blatt KZ2

KZ2

6.1.x


-

KZ2
- KZ2 under from 25 years
- KZ2 over from 35 years
download
DIVISION 7

TK- Blatt KZ Mix

KZ Mix Div. 7.1.x


-

KGP Shifter
- Shifter Rok
- Champion Six
- X30 Super Shifter
download
Homologation / Fiche

dai - trophy professionale e fatto su misuroIl campionato
DAI-Trophy disputer nei 3 paesi. Quest? anno sono Germania, Austria e Italia. Il nostro traguardo di avere una presenza professionale e di fare le gare economiche e secure.Il progetto tagliato per i piloti ambiziosi e per i loro fabbisogni.- presenza professionale
- gare economiche e secure
- promozione e impegno per la giovent?nel motorsport
- grande livello ma per prezzi adeguati
- adatto e neutrale regolamento